I was diagnosed with a rare unclassified MPN in May of 2013. Prior to my diagnosis I was being treated for what was believed to be Urticarial Vasculitis by the head of Dermatology at NYU. This is just a big name for inflamed hives. I had extensive blood work evaluated every three months and 8 biopsies over the course of 12 years. I was diligent with opinions from several leading academic medical centers in New York City and Baltimore. My reports were always within normal range. Aside from the discomfort of these hives that were itchy and painful I was feeling well. I was put on many anti-inflammatory medications and allergy medications to no avail in arresting the hives. It was un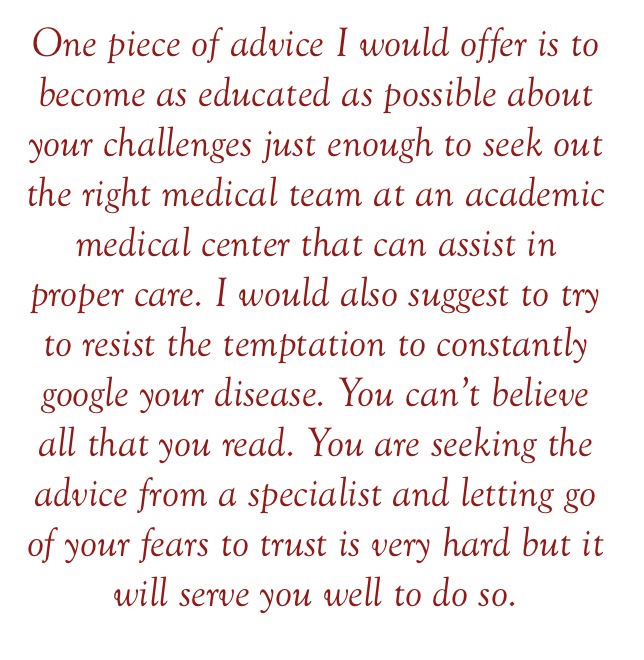 animously concluded that I developed an auto-immune response from the antibiotic Levaquin.
Although I was asymptomatic in May of 2013, my blood tests revealed something more was going on and I was referred to a local Hematologist who told me that I had Leukemia. The world fell out from under me and I feverishly began a search for a Hematologist at a New York Academic Medical Center. I met with several specialists from different hospitals and decided on New York Presbyterian/Weill Cornell Medical Center.
A Hematology Pathologist report stated that the Levaquin had most probably caused the migration of the cells that led to my mutation. The report also stated that I didn't have Urticarial Vasculitis, but Sweets Syndrome which is a rare auto immune skin disorder also stemming from the Levaquin. In June I met with the Director of Hematology and Leukemia Department and the Director of the Stem Cell Transplant Department. My case was certainly unusual, but nevertheless, my only chance for a cure was to undergo an Allogenic Stem Cell Transplant. Very quickly, donor matches were sought after. I did not have a familial match but fortunately several perfect matches were found from unrelated donors. On August 9th 2013 I was checked in to the hospital for my transplant.
I was fortunate that I engrafted well and moved along this journey with few complications. I was in the hospital for 2.5 weeks and then moved in a nearby housing facility so that I could be monitored daily at the hospital. I was able to return home after just one week of being in this facility. Aside from the emotional toll of all that was going on for my family and me, the physical impact of the low intensity chemo drugs and additional drugs that followed to protect my lungs, my liver, and to ward off any possible GVHD, my body was very weak. I had experienced a physical fatigue like I had never known. Taking a few steps caused major exhaustion. I felt like there were 50 pound weights on each of my legs. I came home with needing 31 pills a day. I needed to visit my medical team every week for one year. With the amazing support from my daughters and my friends and family, I pushed through every day. Many weeks passed until I began to feel a little stronger. I can't stress enough that this is probably the most difficult journey you will endure. Be aware of all the ramifications of a transplant and the possible outcomes before you decide if this is right for you. Initially I was 100% my donor. Unfortunately, as months passed less and less of my donor's cell remained in my periphery blood. I had relapsed.
I see my medical team every month now and feel grateful that my disease, although present is being managed. I live a full life able to do most of what I choose.
My background has been in medical education and Program Development. I decided during my recovery that I must use this experience to assist other families and patients that will need to face this process and a cancer journey.   I became multi- certified as a cancer/life coach working with families and transplant patients. I am also an MPN Support Group Facilitator in Northern/ Central New Jersey.
One piece of advice I would offer is to become as educated as possible about your challenges just enough to seek out the right medical team at an academic medical center that can assist in proper care. I would also suggest to try to resist the temptation to constantly google your disease. You can't believe all that you read. You are seeking the advice from a specialist and letting go of your fears to trust is very hard but it will serve you well to do so. Seeking many opinions after treatment or ongoing treatment can be very frustrating when you receive many different thoughts on treatment options. My advice is to trust your judgement as much as possible and in the hope that your medical team you have chosen will do all that they can for you. If you feel that your doctor is against second opinions or discussing your case with other doctors, well then it's time to seek out another medical team. You will be with these doctors for a very long time. You must feel comfortable and trusting in their thoughts. The ability to have healthy, good communication with your team is very important.
There is no denying the emotional toll this will take on your ability to move forward with your life. With the right assistance you can reclaim the joys you have known. I am living proof that life goes on. It may be different, but life goes on. Learning how to navigate the ever-changing landscapes of this disease will be challenging if you attempt to do it on your own. The right coach will assist in the design of the new road map.
Cheryl Corin-Bonder is a Certified Health & Wellness Coach specializing coaching cancer survivors, survivors of chronic disease, stem cell transplant recovery & survivorship, cancer care specialists, weight management, and life transition challenges. Learn more