MPN Advocacy and Education International is being supported in part by the following partners who have contributed to educational programs and projects for MPN patients, caregivers, and physicians. It is our goal to strengthen collaborations, provide a greater understanding of how drugs are developed and approved and form partnerships with all of our constituents with the shared goal and purpose of providing access to information, treatments, and quality care.
Celgene is a global biopharmaceutical company committed to improving the lives of patients worldwide. Celgene seeks to deliver truly innovative and life-changing treatments for patients. www.celgene.com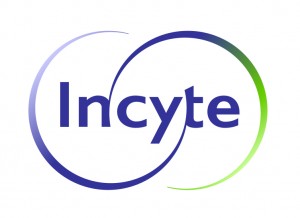 Incyte discovered and developed the JAK1 and JAK2 inhibitor JAKAFI® (ruxolitinib), which is the first medicine approved by the FDA to treat certain types of myelofibrosis and to treat people with polycythemia vera (PV) who have already taken a medicine called hydroxyurea and it did not work well enough or they could not tolerate it. [click here to learn more about JAKAFI].  JAKAFI  is the first and only medicine approved for treatment of these patients.
If you have been prescribed JAKAFI, IncyteCARES may be able to help with Copay Assistance for your JAKAFI treatment. [Click here to learn more about the IncyteCARES assistance.]
Incyte is a strong supporter of physician and patient education programs, as well as advocacy projects, including the nationwide launch of Myelofibrosis Awareness Day. www.incyte.com

Geron is a clinical stage biopharmaceutical company developing a first-in-class telomerase inhibitor, imetelstat, for the potential treatment of hematologic myeloid malignancies. Recent data from a Phase 2 clinical trial of imetelstat in patients with essential thrombocythemia showed hematologic and molecular responses that suggest a relatively selective inhibition of the malignant progenitor cells responsible for the underlying disease. Geron believes this potentially disease-modifying effect may be applicable to other hematologic myeloid malignancies. Imetelstat is currently being studied in patients with myelofibrosis. www.geron.com

PharmaEssentia is a global biopharmaceutical company delivering efficacious, safe and cost-effective therapeutic products for the treatment of myeloproliferative neoplasms (MPNs) such as polycythemia vera (PV), essential thrombocythemia (ET), chronic myeloid leukemia, hepatitis, and other diseases.  PharmaEssentia is developing ropeginterferon alfa-2b, a novel, long-acting, mono-pegylated proline interferon for both PV and ET. It is uniquely administered once every two weeks, offering improved tolerability and convenience, and may offer the potential for disease modification. A Phase III clinical trial for ropeginterferon alfa-2b in PV was recently completed, and the company plans to present data to the U.S. FDA for approval. If approved, ropeginterferon alfa-2b is expected to be the first interferon approved for PV worldwide and the only approved first-line treatment for PV in the U.S.  www.pharmaessentia.com  or www.ropeginf.com

Imago BioScience, Inc., a San Francisco-based biotechnology company, is developing a novel treatment for myeloproliferative neoplasms (MPNs) targeting the enzyme lysine-specific demethylase 1 (LSD1). LSD1 is an epigenetic regulator of gene expression critical for the regulation of myelopoiesis. Inhibition of LSD1 had profound effects on the natural history of myelofibrosis and essential thrombocythemia in mouse models of those diseases. IMG-7289 is a once-daily capsule currently in a Phase 1/2 trial in Australia.www.imagobio.com