Do Some Things Never Change? It's On Us!
By Marina Sampanes Peed
While participating in the Women & MPN™ conference in Los Angeles at the end of September, I met several women who were newly-diagnosed with a myeloproliferative neoplasm. They are bright, can-do women who recently learned what is causing their crazy symptoms and cost some of them their employment. As I listened to their stories, a rush of memories ran through me:
Ten years ago, after severe abdominal thromboses, sepsis, and organ failure, a hematologist told me, "At least you don't have cancer. You should see some of my really sick patients. When you recover from the surgery, you should start working out and lose some weight. You'll feel better." Eight years ago, when I almost stroked with a hematocrit of 69.1, another hematologist started treatment (phlebotomies and hydrea) and encouraged me to consult with a MPN expert.   That expert noted some CBC results from several years earlier (separate health care organization) that showed platelet count over 900,000. He explained that I likely started with ET; it wasn't diagnosed back then because they didn't know as much and the internist didn't connect my symptoms to a blood disorder.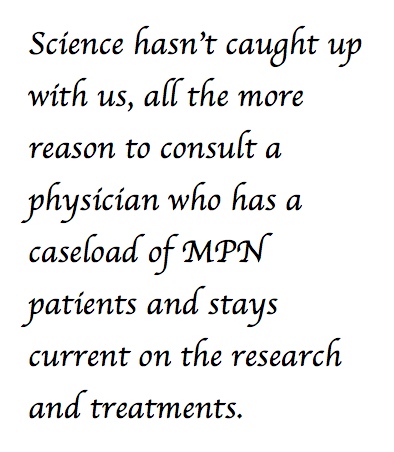 Incredibly, in 2017, some hematologists still don't understand the very diseases they diagnose. I get it; there's a lot to know. Given the complexities of blood cancers and diseases, they have a responsibility to acknowledge their limitations and refer patients to specialists. Unfortunately, many newly-diagnosed MPN patients receive partial information, treatment plans that look more like Swiss cheese, and faulty expectations.
I naively assumed a decade after my first experience, MPNs would not be foreign to local practice physicians. In the last ten years, significant progress was made with new mutations identified, patient studies, new treatments, and diagnostic and treatment protocols. MPNs receive attention at American Society of Hematology (ASH) and other related conferences. I thought greater awareness and understanding would filter through the hematology network beyond university and research centers. Based on recent conversations with several new patients, this is not happening. And people in smaller communities are at greatest risk.
Fortunately, these women took the information from their physicians and started researching on their own. One way or another, they found MPN Advocacy & Education International's conference and decided to attend. The physicians who spoke at the conference shared timely information in relatable ways. "I can't tell you how much relief I feel! Meeting other patients and talking to doctors who know what they are talking about gives me hope," remarked an attendee.
Another shared, "My doctor told me that PV is no big deal. Then I looked it up and read it is cancer and could kill me. After listening to all the speakers, I'm starting to believe that we can get a handle on this after all. I don't understand half of what they said, but at least I know it's complicated and treatable. Now I need to find a good MPN doctor!"
Don't fight a fact. Deal with it!
So as the MPN progress train lurches forward, we must remember that everyone isn't on board. Let this be a reminder to take charge of our care. Ask questions. Seek second opinions. Connect with others. Be mindful. Don't give up.   This caring MPN community is here for you.