When Ann Brazeau asked me to write about why I volunteer, I thought this piece would be easy. When I help other people, I feel better about myself. What distinguishes volunteering from other activities? How do I feel better and what are the conditions that work best for me? And of course, the age old question: why?
It started innocently enough. Bake sales and car washes for school fundraisers. Fill packets with dimes for the March of Dimes. Collect quarters for an orphanage in Greece. By the time I was in high school, I sought ways to help people directly: tutoring other students, activities with seniors, food/book/clothing drives, and became a blood donor. I discovered that organizing events came naturally to me. And I lo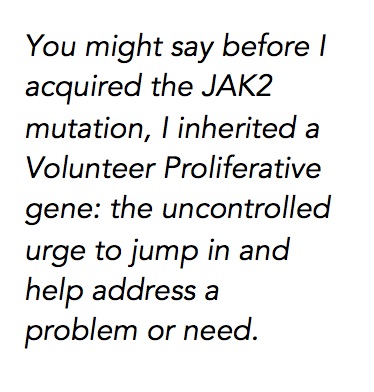 ved making posters.
The expression, "it's in your blood" signifies a trait that appears to run in families. Philanthropy, my Greek grandfather explained, means "love of mankind" based on the Greek words "philios" (brotherly love) and "anthropos" (people/mankind). Volunteerism is a means of expressing philanthropy. I witnessed my grandparents show compassion and care for people who needed a helping hand both informally and through philanthropic organizations. They lived through the Great Depression; they lived modestly and gave generously of their time, talents, and money in many ways.
From Hobby to Addiction
The more I do, the better I feel. Volunteer work quickly became an addiction. The addiction was fueled by numerous opportunities at my university. I recruited volunteers, developed peer mentoring programs, and advocated for student issues. While some students sold their plasma for beer money, I donated blood regularly. These works significantly shaped my university experience. If I'm honest, I spent far more time working on volunteer activities than my coursework. If there were a degree in extra-curricular activities, I would have been valedictorian.
Volunteering is a socially acceptable addiction. It is respected and rewarded by society. And perhaps even more powerful, the dopamine release is an incredible mood-lifter. I derive a deep sense of worthiness from giving my service. I feel alive; that I am living my purpose.
My Social Life
After college, volunteering was a great way to meet people and network in Boston, my new home. I even met the man who became my husband in the Boston Jaycees. I discovered interest in volunteer work that is one-off from more popular, publicized causes. While in Boston, I volunteered with youth leadership, community development, women's health, and victims of sexual assault.
When we moved to Georgia, I chose to seek out volunteer opportunities. It's a great way to meet people who share similar interests. Golf is my husband's primary hobby. Volunteering is mine. I spend a lot more time with my hobby than he does with his.
One year, my husband gave me a t-shirt that read "STOP ME before I volunteer again!" He had a point. I often used my volunteer work to avoid tasks I didn't care for.
When I was out of commission during my stem cell transplant journey, I couldn't resist sharing the experience step-by-vulnerable-step in my CaringBridge site. I wanted my experience to benefit others. Learning from transplant survivors helped me get through the many rough patches, and I wanted to pay it forward. This also gave me another sense of purpose.
Many gifts from volunteer work
The return on investment is priceless:
I've developed friendships with most interesting people of all ages from all walks of life.
My worldview expands as I learn a lot about people, science, the arts, public policies, economics, and technology – without paying tuition.
I am reminded of the blessings in my life. The gratitude I feel inspires me to share with others. I have fun – learning new things, meeting new people, and trying new things.
My sense of self-worth is enhanced with every good work. If only calories would burn at the same rate!
When I become too focused on my problems – what's hurting today, the latest CBC results, going from one specialist to another seeking answers, dealing with insurance – I feel miserable and cynical. Even I tire of my negative self.
My go-to remedy is to give myself a 10-20 minute pity party (depending on the severity of the issue). Cry it out, cuss it out, write it out, breathe it out, walk it out; whatever works. Then I set those issues aside and turn my attention to the world. What can I do to get outside myself and put some positivity into the world? Try it! It works!
I wish you the peace and joy that comes from being in service to others.